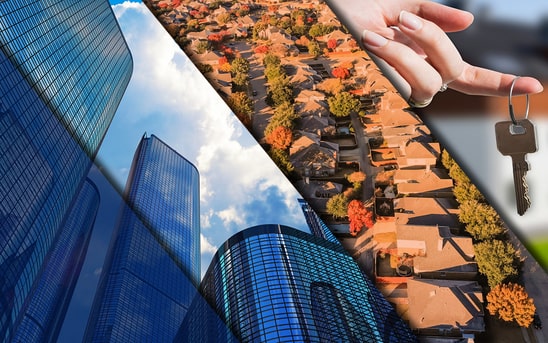 From boom to balanced: 2022 set to ride a smoother property wave
After a bumper year across the Australian property market – from the city to the regions – experts are predicting slower price growth ahead. However, with limited supply and low interest rates for the foreseeable future, real estate will still be a hotly sought-after commodity in 2022.
National dwelling values were up 0.6% in February, rounding out a 2.7% increase for the quarter according to CoreLogic's monthly Hedonic Home Value Index. February marks the slowest growth since October 2020, with Sydney recording its first decline in 18-months.
Coast and county price growth continued to outpace that of the cities with the combined capitals reporting a modest rise of 1.8 per cent while the combined regions jumped 5.7 per cent in the three months to February 28.
A new beginning
While no commentator can guarantee how property will perform in 2022, one thing is certain according to REA Group senior economist Eleanor Creagh – 2021 finished very differently to how it started.
"There were three consecutive months of elevated new listings, with November bringing a decade high for new listings in capital cities. The easing of COVID restrictions in NSW and Victoria boosted seller confidence and buyers took advantage of the choice available," she wrote in her January PropTrack digest report.
REA analysts expect new listings to remain elevated during the start of 2022, as would-be sellers respond to strong price growth. February saw the busiest auction week since Core Logic records started in 2008.  And with more homes on the market, there should be a better balance of supply and demand to calm down skyrocketing prices. "Already high home prices, along with bottoming mortgage rates, will slow annual price growth. Savings made from lower interest rates were very quickly absorbed by higher housing prices and that commensurate boost to affordability is expiring," Ms Creagh said.
In addition to this, the Australian Prudential Regulation Authority's changes which took effect late last year are also having a subtle impact, reducing the borrowing capacity of new buyers.
Million-dollar metro markets
In January, Sydney no longer stood alone with a $1 million plus median. CoreLogic's Index revealed that three of the eight capital cities had a median house value exceeding the $1 million mark. Melbourne, after surpassing the milestone for the first time in January, slipped back below the million-dollar mark in February to $998,356, while it was the second month in a row for Canberra which now sits at $1.031 million. Sydney also hit a new price point with the median climbing to $1.410 million.
City snapshots
Melbourne
During the three months to February 28, the Victorian capital has seen a 0.2 per cent rise in the median dwelling value to $799,756. Melbourne's rents increased by 4.6 per cent (houses) and 5.5 per cent (units) annually while the gross rental yield for the city was 2.8 per cent.
Sydney
Over the quarter the Harbour City experienced a median dwelling rise of 0.8 per cent to $1.116 million. The annual change in rents for Sydney was up 8.7 per cent (houses) and 8 per cent (units). Sydney's gross rental yield was sitting at 2.4 per cent.
Brisbane
Home values in Queensland's capital had a significant jump of 8.3 per cent during the quarter to reach $706,594. Over the year, rents rose by 11.3 per cent (houses) and 6.5 per cent (units) and Brisbane's gross rental yield was 3.6 per cent by February's end.
Canberra
The nation's capital saw a surge in the median dwelling value of 3.7 per cent to $906,529. In a 12-month period, rent in Canberra jumped 9.7 per cent (houses) and 6.8 per cent (units) while the gross rental yield was 3.8 per cent.
Perth
By the end of February, the West Australian capital had a 1.2 per cent increase to dwelling values taking the median to $531,243. Perth's rents were up 7.8 per cent (houses) and 6.7 per cent (units) over the year and its gross rental yield was 4.4 per cent.
Units back in demand
After a rocky ride for city units in 2020 and 2021, apartments could be back in favour for 2022. "The reopening of international borders and subsequent return of skilled migrant workers and international students is likely to see increased demand for inner-city rentals," Ms Creagh said.
"Rents in regional areas have surged while largely remaining flat or declining in inner-city locations due to pandemic-induced preference shifts. Almost two years after lockdowns first emptied city apartments, demand could be set to recover as life returns to CBDs."
With investor activity picking up in the latter half of 2021, there is increased demand for units. REA Group reported a two-year high in investor enquiry to real estate agents via their realestate.com.au portal.
APRA's increase to the serviceability buffer – coupled with the fact investor loans typically have higher interest rates – means affordability could impact investors more than owner occupiers thus pointing them towards units.
The future of interest rates
Despite the RBA Governor Philip Lowe repeatedly maintaining throughout the pandemic, that the official cash rate wouldn't move until late 2023 – at the earliest – there is now speculation a rise could come much sooner.
Westpac recently announced it expected the cash rate to reach 1.75 per cent by 2024. The big bank predicted six interest rate rises – in August 2022, October 2022, March 2023, June 2023, December 2023 and March 2024.
While the official rate is staying put for now, comparison site Mozo.com.au recently reported that in the three months to January's end, there were already 2835 increases to fixed rate home loans by 78 providers. Clearly, lenders aren't waiting for a green light from the RBA to make a move on mortgages which could impact borrowing power sooner rather than later.
Note: all figures in the city snapshots are sourced from: CoreLogic's national Home Value Index (March 2022)
If you have any questions or need any information please give us a call on 039723 0522.
Nicholas Berry Credit Representative Number 472439 is a Credit Representative of Integrity Finance (Aust) Pty Ltd – Australian Credit Licence 392184.
This information is of a general nature and does not take into consideration anyone's individual circumstances or objectives. Financial Planning activities only are provided by Integrity One Planning Services Pty Ltd as a Corporate Authorised Representative No. 315000 of Integrity Financial Planners Pty Ltd ABN 71 069 537 855 AFSL 225051. Integrity One Planning Services Pty Ltd and Integrity One Accounting and Business Advisory Services Pty Ltd are not liable for any financial loss resulting from decisions made based on this information. Please consult your adviser, finance specialist, broker, and/or accountant before making decisions using this information.