Too often we all have plans to save great amounts of money and often struggle to stick to our savings plan. However this is a very simple and easy to stick to savings plan that does not involve large deposits.  A small deposit every day can save you almost $1,500 per year.
This money can be used on an end of year holiday, expensive household furniture or even pay for your Christmas shopping.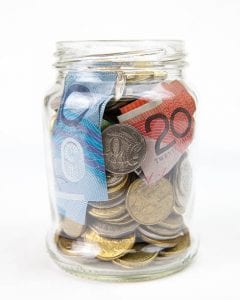 On Sunday you put aside $1
On Monday you put aside $2
On Tuesday you put aside $3
On Wednesday you put aside $4
On Thursday you put aside $5
On Friday you put aside $6
On Saturday you put aside $7
If you stick to this savings method you can save $28 a week and you end up saving $1,456 at the end of the year.
Another way to complete the challenge and save $28 a week is too simply to put aside $4 every day, the cost of a cup of coffee.
To save a little extra you can round up the savings from $28 to $30 a week. This can save you $1,560 in a year. Another option is to put aside $5 a day instead of $4 and you can save $1825 a year.
These are all easy saving strategies that only require a small amount to be put aside every day and don't involve any large transactions. You can transfer these amounts into a savings account or put money in a jar, it's completely up to you. Good luck!
Article Source: Becky Pemberton, news.com.au
Please contact Integrity One if we can assist you with any of your financial needs.
Phone: (03) 9723 0522
Suite 2, 1 Railway Crescent
Croydon, Victoria 3136
Email: integrityone@iplan.com.au
This article is of a general nature and does not take into consideration anyone's individual circumstances or objectives. Integrity One Planning Services Pty Ltd is a Corporate Authorised Representative No. 315000 of Integrity Financial Planners Pty Ltd ABN 71 069 537 855 (which is the holder of AFSL 225051). Integrity One Planning Services Pty Ltd and Integrity One Accounting and Business Advisory Services Pty Ltd are not liable for any financial loss resulting from decisions made based on this information. These articles are not owned by Integrity One Planning Services. We recommend that you seek personal advice from an advisor prior to implementing any of the information contained in this publication.