Budgeting is a great way to control spending, but it is also important to track what you are spending to ensure that you are sticking to your budget. This can be a challenge for some and hopefully the 5 ways to track your spending below help.
Track your spending by store
If you shop at a particular store regularly, you can track your spending at each individual store. Keeping receipts to work out the total amount spent over a period of time at the same place will help you track what you spend.
Set an amount for a period of time that you will spend at a specific store and aim to keep under that amount. Your amount will depend on different factors such as whether or not you have children.
As an example, you may set a budget for $600 a month to spend at Woolworths. If you only spend $550, the left over $50 can either be reinvested or put into a savings account towards a holiday or luxury item you were wanting to purchase.
Use a separate spending account
This is the easiest way to budget and monitor what you spend. Using this method you should have an account for paying the bills and essential expenses such as insurance, phone bills and rent. A separate account for other spending or "fun money" for things such as going out for dinners and other luxury expenses should be created. A portion of your pay should be transferred into that account every pay period and when that account gets low you are forced to reduce those expenses. Another savings account for investing can also be created.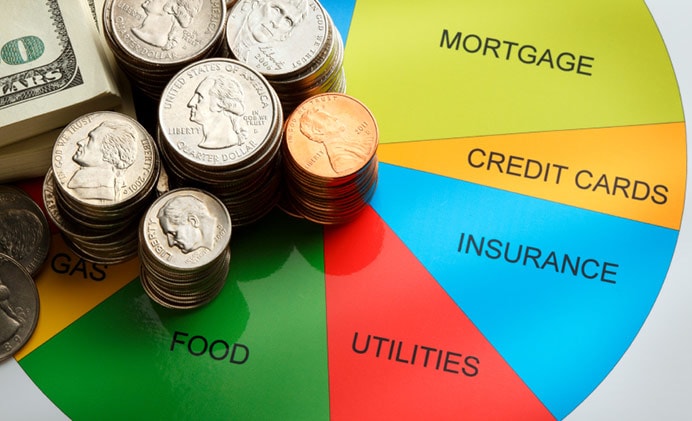 Track as you go
This involves keeping a spreadsheet that plans for expected bills and expenses over a month or another time period of your choice. When expenses are paid for they are then recorded in a running tally against budgeted expenses. By doing this you are not only budgeting, but you are also ensuring that you stick to the budget.
The envelope method
Similar to using a separate spending account and tracking spending by store. This is useful if you feel that you spend too much one thing or if you simply want to control what you spend on that particular thing such as going out for drinks. If you want to control what you spend at a bar on drinks then put an amount you think is appropriate in an envelope and when you run out you have to stop. You must be disciplined for this for this to work.
The envelope method can also be used to cover for unexpected expenses such as an unexpected vehicle expense or buying a new fridge or other expensive home appliance when your current one breaks down. Every week or month you would add an amount to that envelope to help cover for unexpected costs
Download statements
If you just want to make sure you are not mindlessly indulging in certain areas this is a useful strategy.
This involves downloading your transactions into a spreadsheet every month. Then you would sort the transactions by merchant and add a label to each one such as food, clothing, cleaning, petrol, etc. Then you can identify areas that you may be spending too much on.
There isn't a right or wrong way to track your spending. It is most important that you find a way that you can stick to and that works best for you. The purpose of these tips are to help you achieve your financial goals as well as enjoy life now.
Source: Kelley Long, Forbes
Please contact Integrity One if we can assist you with any of your financial needs.
Phone: (03) 9723 0522
Suite 2, 1 Railway Crescent
Croydon, Victoria 3136
Email: integrityone@iplan.com.au
This article is of a general nature and does not take into consideration anyone's individual circumstances or objectives. Integrity One Planning Services Pty Ltd is a Corporate Authorised Representative No. 315000 of Integrity Financial Planners Pty Ltd ABN 71 069 537 855 (which is the holder of AFSL 225051). Integrity One Planning Services Pty Ltd and Integrity One Accounting and Business Advisory Services Pty Ltd are not liable for any financial loss resulting from decisions made based on this information. These articles are not owned by Integrity One Planning Services. We recommend that you seek personal advice from an advisor prior to implementing any of the information contained in this publication.