Australians spend billions in retail stores on Christmas gifts which can be a major financial burden.
These tips can help reduce this burden and still manage to spoil your friends and loved ones with amazing Christmas gifts. They can also help reduce the stress of trying to find the right presents for everyone in time for Christmas and the frustration of battling huge crowds at shopping centres.
Plan
Firstly make a list of who you are buying for, what you want to get them and how much you are willing to spend on each person. Create these lists early so you can add to it throughout the year when you think of gift ideas.
Agreeing on spending limits with your loved ones and sticking to them will help keep budgets under control. Also agreeing to a limit with the adults in your extended family is recommended. To save money you can agree to only buy for the kids, or if you want to buy for adults then do a Kris Kringle.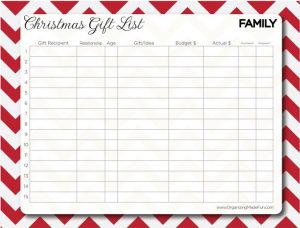 It's never too early to start buying gifts
The benefit of creating wish lists early and adding to them throughout the year is that when you see an item on sale you can purchase it early. Christmas shopping can cause a lot of financial stress because you're spending a lot in a short period of time, by starting early you can spread out your spending over a longer period of time.
Shop Online
Many major brands and shops also have online stores. By shopping online you can avoid costs associated with travelling to the shops such as petrol and parking.
It will also save you time which is incredibly valuable around Christmas. It also allows you to shop at whatever time it suits you and in the comfort of your own home.
Look for every possible way to save online
Follow your favourite brands on social media or via an email subscription service. That way you know when sales and special deals are happening to get any gifts at a cheaper price.
Search for discount codes to use at the checkout.
Search the sales section of a retailers website
Don't just search on the retailers website, you may be able to find it cheaper elsewhere
Compare prices
Starting your Christmas shopping early also allows you to compare prices between different stores to get the best deal.
Get together your gift cards
Too many times we let gift cards expire before we use them. Before you go Christmas shopping get together any gift cards that you still have credit on, some you may have even received as a gift list Christmas. By using gift card credit you reduce the amount of money that comes out of your pocket.
You can also buy gift cards as a present which can then be used during the Boxing Day sales.  The recipient gets more value from their present as a result.

Save on wrapping
To save on wrapping use plain coloured paper and avoid the pricey Christmas wrapping paper. You can then use the excess paper throughout the year as well.
Gifts can also include experiences such as offering to babysit someone's children while they go on holiday, cleaning their house or cooking them dinner. In some cases you may not have to spend a cent to give a great gift.
Hopefully these tips allow you to spoil your friends and family with gifts they love whilst reducing what you spend. For more tips on saving money during the festive season visit our article on tips to save money during the festive season.
Article sources:
Jacqueline Curtis, Money Crashers
Olivia Maragna, The Sydney Morning Herald
ASIC's Money Smart
Please contact Integrity One if we can assist you with any of your financial needs.
Phone: (03) 9723 0522
Suite 2, 1 Railway Crescent
Croydon, Victoria 3136
Email: integrityone@iplan.com.au
This article is of a general nature and does not take into consideration anyone's individual circumstances or objectives. Integrity One Planning Services Pty Ltd is a Corporate Authorised Representative No. 315000 of Integrity Financial Planners Pty Ltd ABN 71 069 537 855 (which is the holder of AFSL 225051). Integrity One Planning Services Pty Ltd and Integrity One Accounting and Business Advisory Services Pty Ltd are not liable for any financial loss resulting from decisions made based on this information. These articles are not owned by Integrity One Planning Services. We recommend that you seek personal advice from an advisor prior to implementing any of the information contained in this publication.